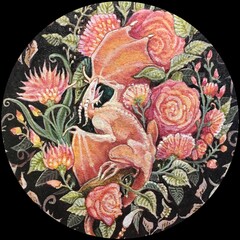 So MK
Freelance Artist - illuminated manuscripts, jewelry, things....
Magog/Provins, Canada
Summary
SoMK spent several years at the creative end of the advertising business, and accidentally ended up as a teacher of programming languages for the computer industry. In 2001, blissfully unaware, she embarked on a full-time artistic career, becoming a painter, sculptor and jewelry maker!
Her love of precision, blown up deadlines, details and hard work, and the proven 'recipes' that she has rediscovered and incorporated in her work, shine through the simplicity and patience involved in creating the traditional technique of illumination. Be it in jewelry or illustration, SoMK draws her inspiration from a variety of sources - a combination of nature, history, fantasy, science-fiction, horror and whisky.
Major awards, so far ... ;)
Best Multimedia - Gencon
Best of show Sculpture - GotF - Toronto
Public award Best of Show - WorldCon Toronto (TorCon)
Best jewelry - DragonCon Atlanta
and Best Mixed Media - DragonCon Atlanta 2015 :)
Skills
Digital Painting
Traditional Art
miniatures
sculpture
gilding
jewelry
engraving
Software proficiency